Demi Longueur is a french term popular in the midcentury salons and runways of Paris. There are several terms used for this signature length associated with parts of 1950s fashion design. There are slight differences in the term of "tea-gown," "3/4 length," and "ballerina length" - however, overall, demi longueur or the 3/4 length is one of the features of numerous dresses and gowns done for "Cissy" form 1955-1962 by Madame Alexander.
I did this article several years ago to celebrate one of the most iconic looks of midcentury fashion and its application to "Cissy" as a fashion doll. Introduced with the New Look from Christian Dior, the length of skirts took on a dizzying place in reporting of fashion. Hems went up and down or not at all. During the 1950s, movement of hem length became a much-anticipated event — a reflection of what some perceived as a movement in the economy or stock market.
We're flooded now with fashion news at the moment it's happening with an avalanche of looks each fashion season. The red carpet has become a significant fashion event that presents to the world what is the trend of the minute. Social media, in general, has found new ways to bring fashion to a new audience. Captivated by the glamor, fantasy, and magic, fashion has become entertainment and the brutal reality of the business of fashion its editor.
INTERESTING
MADAME ALEXANDER DOLL CLUB
The Review - Issue 3, 2019
"Miss Binnie" - The Madame Alexander Doll Club 2019 Club Doll
INTERESTING
MADAME ALEXANDER, THE RODNEY WALLER COLLECTION: PART THREE
October 27, 2019
Theriault's - Rodney Waller Auctions 1, 2 and 3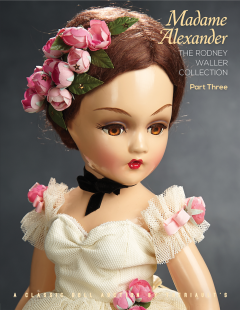 Time has come for Beatrice Alexander, signature American dollmaker and designer, to take her rightful place among antique dolls. Nearly 90 years have passed since her dolls first appeared, and for more than a half century she stood as a symbol of excellence, ingenuity, and marketing mastery in the world of American dolls. Collector Rodney Waller noted this many years ago, and began a quest to find the rarest of the rarest of her dolls, prizing originality and excellence of condition as well as rarity. This is Session III of his three-part auction of Madame Alexander dolls.
INTERESTING
THE COLLECTION OF LEE BOUVIER RADZIWILL
October 17, 2019
In October, The Collection of Lee Bouvier Radziwill will be offered as a highlight of Christie's Collector Week sales in New York. The contents of the collection offer a glimpse into her fascinating life, spanning her years as a prominent socialite, princess, designer, and witness to a momentous era in American history.
INTERESTING
THE KING
NETFLIX - November 1, 2019
David Michôd directs Timothée Chalamet, Joel Edgerton, Robert Pattinson and Ben Mendelsohn in this free adaptation of Shakespeare's 'Henry' plays about leadership and war.
There's sweep but also understatement in the visual scheme of cinematographer Adam Arkapaw's muted, almost desaturated color palette and meticulously measured camerawork, and the production and costume designs of Fiona Crombie and Jane Petrie, respectively, which provide early 15th century period authenticity with minimal fuss. Of particular note is the exquisite use of natural light in many of the interior scenes, and chiaroscuro tones right out of Caravaggio for the candlelit nighttime interludes.