It's not just what's she's wearing, but the story that goes with it. Like most dolls that arrive at dolledition.com, there is a process of unboxing, getting your own file started, the viewing and finally, it's time for photographs. This can take time, so there is always a period of waiting and wondering - how will the others react and will there be a fit into the collection. Not to worry. It's all a big family that are also friends. Everything has a story to tell in the big-wonderful-world we're part of.
INTERESTING
dolledition.com
FOR WHAT DID IT SELL?
Testing a new element for dolledition.com - FOR WHAT DID IT SELL? One of the most requested email inquiries is what things cost and why did something sell for what it did. Here are four Cissy's I sold from 2009:
1957 Cissy #2141 Navy Taffeta & White Organdy / Selling Points: Near mint brunette, good coloring, with correct accessories / Sold for: $1,800.00

1957 Cissy in Black Slacks and Sash, Lace Top / Selling Points: Mint condition, sunglasses, jewelry, beautiful infused coloring / Sold for: $1,200.00

1955 Cissy #2097 Blue Satin Gown / Selling Points: All accessories including three stone ring, feather fan and correct flower coronet / Sold for: $3,850.00

1957 Cissy #2041 "Opera" Variation / Selling Points: Stunning near mint doll with all correct accessories and hang tag / Sold for: $2,200.00
INTERESTING
Little Ladies: Victorian Fashion Dolls and the Feminine Ideal
Thru March 3, 2019
Before Barbie and American Girl, there was Miss Fanchon. The ultimate toy for privileged girls in the 1860s and 1870s, she and her friends were seen as models of ladylike perfection. These dolls came with an amazing array of dresses, undergarments, and meticulously crafted accessories, from gloves and jewelry to roller skates and calling cards.
"The Madame Alexander Doll company has undergone several new changes since Tom came aboard February 2018 and I was able to chat with him about what's ahead for dolls in 2019." The 95-year-old doll company is gearing up for many new exciting releases and celebrations leading up to their 100th anniversary in 2023.
"Madame Alexander will be at the NYC Toy Fair February 16-19, 2019 showing from classic collections: 19" Newborn Nursery dolls in multi-ethnicities, classic 12" soft body Huggums, 10" Cissette dolls and the popular 8" Wendy collector dolls. I'm super excited that 21" Cissy will also make a comeback in 2019."
INTERESTING
L.O.L. Surprise
According to NPD Group, a market research firm, L.O.L. Surprise! was the best-selling toy brand of the year (excepting December, for which sales numbers haven't been released), and L.O.L. Surprise! Bigger Surprise was the top-selling toy in November.
So, what is the L.O.L. Surprise! Bigger Surprise? It is a glittering, baby-pink plastic suitcase that one buys without knowing what's inside. It is filled with doe-eyed plastic dolls and many sparkly accessories (including wigs, handbags and green tennis rackets) and each item is individually wrapped in enough plastic packaging to occupy a doll-size landfill.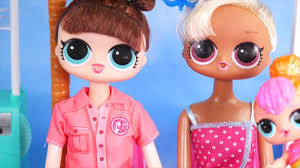 The hottest toy of the year was a glittering, baby-pink plastic suitcase that we buy without knowing what's inside.